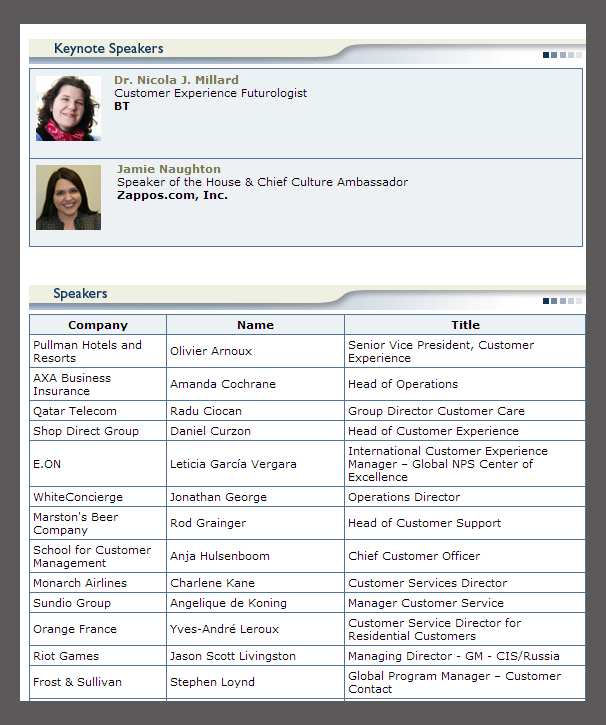 On my birthday, in June of 2012, I spoke in Amsterdam at the 6th Annual 2012 Frost & Sullivan Executive MindXChange conference on my experience and work at Electronic Arts, BioWare, and the lessons I learned from the setup of a global customer support solution from scratch.
I guess I didn't mess it up too badly, as I was invited back to speak at the 7th annual event in Cannes, France.  I know, rough, right?!
http://www.prnewswire.com/news-releases/customer-contact-2013-europe-a-frost–sullivan-executive-mindxchange-in-cannes-205725211.html
http://frostevents.wordpress.com/2013/03/07/7th-annual-customer-contact-2013-europe-a-frost-sullivan-executive-mindxchange/
At the time I was invited, I was still the acting Managing Director and Head of Operations for Riot Games for the Russia/CIS territory.  However, by the time I spoke, I had completed the contract, launch of League of Legends into Russia, and therefore spoke openly on behalf of StartWithCare.
My presentation was titled: Creating Advocates: How the Contact Centre Can Make the Difference in becoming More Efficient, Effective, and Competitive.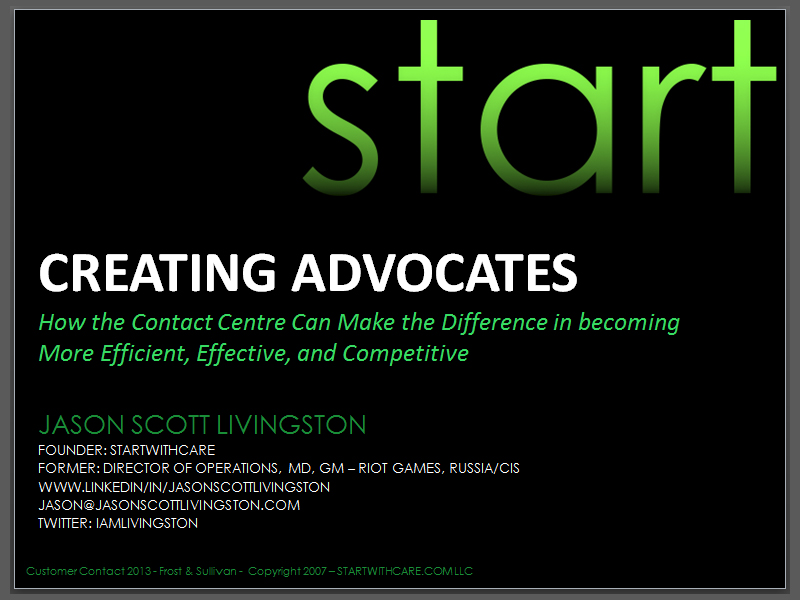 I focused on Brand Communities, and how focusing on our contact centres should be the last step we should be making in hoping to build our brand reputations, creating customer advocates, and managing the perception of our company! The truth is that the contact centres can be an incredibly powerful customer experience engine to delight and retain our customers…but that's only if the perceptions of your community are positive coming in and then met by the quality of the service they receive.
Too many of you out there are looking at the contact centre as the final "Saves" step, or retainer, a chance to convince customers that your product/service is a good one.  The truth is that all the marketing in the world, all the old school dollar spend on advertisements, and bloggers, will not achieve control over your customer brand community.  Brand communities are "now", not the future.
These audiences are self-forming, and through the power of the great inter-web, they are banding together to define your product and services either with or IN-SPITE of you and your massive marketing spends.
The days where marketers could control the brand perception, CEO's and COO's could make their statements and the stocks shifted, and customers were voiceless and forced to "grin and bear" it are OVER.  With the advent of computer generated media, online resources for open communications, sites like Facebook, Reddit, Forums, Blogs, Twitter, ahhhh!  Customers who have a bad experience don't just tell 10 people (as the old adage goes), they in fact tell 10,000…or MORE.
Riot Games was a breath of fresh air for someone like me.  When I joined them I was pleased to see that they engaged with the online community in every way possible.  Every member of their staff is trained and then ENCOURAGED to post on Reddit, Facebook, respond to tweets and actively are trained and participate in customer support.  At events they are served last, they go the extra mile to make sure that every player (customer) feels that they are 1st and special.
Their marketing department does not market in the traditional sense.  They never quantify what they "market".  They serve up the product without any judgement or statements like "new, cool, awesome".  They serve it up, and sit back and let the community judge, advocate, champion the product.
It's working.  Their growth rate is astronomical.  League of Legends is the number 1 played game in the world, clocking in more than a billion hours of playtime per month.  Yeah, I said a "billion".
Their natural growth rate, from pure word of mouth is over 80%.  Yep, think about the dollar save there!
They are following closely the guidance coming out of the Harvard Business School on how to deal with their Brand Community.  I'll share that with you now:
*From: HBR: Getting Communities Right
•MYTH: A brand community is a marketing strategy.
•REALITY: A brand community is a business strategy.
•MYTH: A brand community exists to serve the business.
•REALITY: A brand community exists to serve the people in it.
•MYTH: Build the brand, and the community will follow.
•REALITY: Engineer the community, and the brand will be strong.
•MYTH: Brand communities should be love-fests for faithful brand advocates.
•REALITY: Smart companies embrace the conflicts that make communities thrive.
•MYTH: Opinion leaders build strong communities.
•REALITY: Communities are strongest when everyone plays a role.
•MYTH: Online social networks are the key to a community strategy.
•REALITY: Online networks are just one tool, not a community strategy.
•MYTH: Successful brand communities are tightly managed and controlled.
•REALITY: Of and by the people, communities defy managerial control.
I could go on for ever on this subject, but as I typically get paid to do so, I'll stop now.

I had a great time in Cannes, and despite some pretty annoying strikes by air-traffic controllers that kept us from getting out after the conference, I really enjoyed my experience.
The folks at Frost & Sullivan put on amazingly valuable events.  Every year I am more impressed with them and their team.  I mean where else can you hear from people like Jamie Naughton, Speaker of the House & Chief Culture Ambassador, Zappos.com, Inc., on "The Zappos Customer Service Story." or Nicola Millard, Customer Experience Futurologist, BT, on "Easy Does It: Serving Autonomous Customers".
It's two days on incredible learning.